FX Rowan & Co Solicitors was established in Dublin by Francis Rowan, solicitor, in 1990, and the firm has been based on Upper Pembroke Street ever since. Personal attention, discretion and customer service are the hallmarks of the firm. Francis Rowan ensures that every single case gets his personal attention and the benefit of his vast experience. As a law firm, FX Rowan & Co is known for the attention to detail we bring to every aspect of every case. Although we settle far more cases than we ever bring to court, we have a reputation for hard bargaining and for being tough in a fight. We believe in being reasonable when others are reasonable also, but we will never shy away from robust engagement when our clients interests are at stake.
Francis Xavier Rowan, B.C.L., Solicitor, Principal.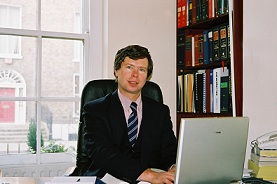 Francis Rowan qualified as a solicitor in 1986 and after gaining 10 years experience in a city-centre law firm, he set up FX Rowan & Co in 1997. Francis has always had a specific expertise in claims for personal injury*, such as road traffic accidents or claims for accidents at work or accidents in public places. He is an enormously experienced solicitor, with an enviable record both in court and in settlement negotiations, where cases are resolved without going to court. His experience and expertise will ensure the best possible outcome in your case.
FX Rowan & Co Solicitors has built its reputation by always fighting to secure justice for our clients. If you want to make a compensation claim or seek damages for a personal injury*, we will make sure you receive the maximum compensation for your claim, and we will seek to make the process as straightforward and stress-free as possible. If you need an expert, experienced and discreet personal injury solicitor in Dublin city centre, Francis Rowan is one of Ireland's very best. Contact us today.

*In contentious business, a solicitor may not calculate fees or other charges as a percentage or proportion of any award or settlement